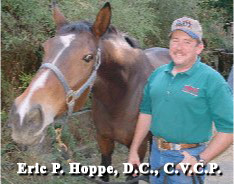 Animal "Chiropractic" is as old as Human "Chiropractic" and dates back to the early 1900s. B.J.Palmer, who is recognized as the founder of modern Human Chiropractic, stated in 1944:
"In the early days of Chiropractic, we maintained a Veterinarian (sic) hospital where we adjusted the vertebral subluxations of sick cows, horses, cats, dogs, etc. We did this to prove to ourselves that the Chiropractic principle and practice did apply. Even today, occasionally, somebody brings us a valuable pedigreed pet to adjust"
Manual manipulation of the spine of the human and the animal is documented even earlier in ancient Chinese illustrations . Performing Chiropractic adjustments on animals, such as horses, has been done quietly by caring Chiropractic Physicians for over 100 years and has since 1985 become a separate entity unto itself, gaining considerable interest only recently.
Dr. Eric Hoppe is a Chiropractic Physician, who has, in close cooperation with the equine patient's treating Veterinarian, provided chiropractic care to horses since 1985. "The Hoppe Technique" is the backbone of Hoppe Equine Chiropractic and Hoppe Equine Rehabilitation. "The Hoppe Technique" has continued to expand & refine itself since Dr. Eric Hoppe first developed it back in 1985 while an intern in chiropractic college. Dr. Hoppe is on the Board Of Directors of the International Animal Chiropractic Association and the International Association Of Veterinary Chiropractitioners He is also certified in Animal Chiropractic and Veterinary Orthopedic Manipulation
Hoppe Equine Chiropractic specializes in the care of Equine musculoskelatal injuries, performance, and conformation problems. Hoppe Equine Chiropractic and it's affiliate organizations, in full cooperation with the Veterinary community, is dedicated to lead in the development and delivery of the latest Alternative Healthcare Techniques & Services for the Equine patient.
Unlike other techniques that require the Equine patient to be tranquilized, restrained or various implements and devices to be used to achieve the adjustment, "The Hoppe Technique" utilizes a unique cooperation between the treating doctor and the horse. "The Hoppe Technique" can be more easily compared to a technique used in Human Chiropractic known as the Diversified technique. "The Hoppe Technique" treats the Entire Spine and not just a segment of the spine. By treating the entire spine and removing the subluxation complex, we are able to open the normal flow of neural transmissions along the spine as well as to the connecting muscles and organs.

By using this technique we are able to improve many Equine lameness issues and anomalies such as pinched nerves, paralysis, decreased performance levels, cinchyness, short striding , muscle spasms, inability to pick-up leads, cross-cantering, bucking, spastic colon, diarrhea, arthritic symptoms as well as many other conditions that arise from the horse having improperly fitting tack, poor shoeing or simple conformation problems. These are by no means the only problems that Horse Chiropractic can address.

Hoppe Equine Chiropractic has taken the care of the horse to another level by affiliating with Quam Animal Acupuncture. Dr. Quam is a Veterinarian that is Board Certified in Animal Acupuncture by the International Veterinary Acupuncture Society. Dr. Quam, as well as being a licensed Veterinarian in Texas and California , also brings a background in Animal Nutrition and is a published Research Scientist with the University Of California at Davis.
Hoppe Equine Chiropractic and Hoppe Equine Rehabilitation is much more than a Horse Chiropractor "fixing" a sore back, it's a comprehensive approach, working with the treating Veterinarian and established Chiropractic and Physical Therapy protocols. We are here to provide a humane and caring environment to achieve the maximum recovery possible from a disabling injury or any abnormality within our scope of care.
*Disclaimer*
Whenever considering Equine Chiropractic Care for your horse, it is important that you first discuss the appropriateness of this type of care with your Veterinarian. If your Veterinarian examines your horse and feels Chiropractic Care is appropriate, Dr. Hoppe is available to assist in a healing solution.